In 2004 Eagle Intermedia's consultancy services were awarded TMB accreditation by the Business School of the University of Durham - demonstrating a proven ability to provide quality advice on the application of information technology (IT) to "real world" businesses.
TMB (Technology Means Business) was a UK government and Business Link backed accreditation scheme which was devised to provide quality assurance for clients seeking IT related business advice.
The TMB accreditation scheme has been supported by the UK government, Business Link and the Chartered Management Institute in co-operation with several major IT companies (including Microsoft, Intel, HP, BT and Cisco Systems, etc.).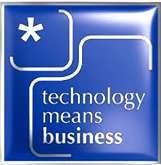 For more information about Eagle Intermedia's consultancy services please contact Eagle Intermedia.