This site uses cookies. Please click here for more information.
Lt. Cmdr. Rodger "Dodger" Overandout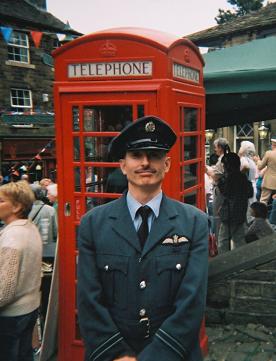 More Photos Here
I say, chaps, this Haworth 1940s Weekend is jolly good fun, what !?
Was here a couple of years ago on crutches after having been shot down by "the Bosch". Dashed inconvenient - I can tell you - hobbling round on those confounded cobbles. Still, better now, and back true to form keeping everything on my patch in tip top order. Even managed to get my own back on the blighters a few years later !
On an unrelated note I ought to mention that we're looking for a very dodgy sort of spiv character (who rumour has it has apparantly been causing one or two "difficulties" down the barracks - black market stuff and naughty pictures, or so I hear).
If you see him then let me know. When I catch him he'll be in big trouble !
---
PSST !! While the above bloke ain't looking - check out the following:


For more information about the 1940s please also visit www.1940s.org.uk
This site designed, maintained and promoted by
Eagle Intermedia Publishing Ltd.
© Copyright 2002 - 2016 All Rights Reserved.