This site uses cookies for analytics and affiliate tracking purposes. Please click here for more information.
Yorkshire Day - 1st August

Site author: Eagle Intermedia

Follow Eagle Intermedia on Twitter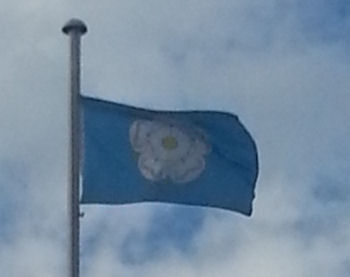 Some more views of Yorkshire Day
The first day of August is each year celebrated by the people of Yorkshire as "Yorkshire Day" - a day when the flag of the White Rose (pictured above) of Yorkshire can be seen proundly flying in many parts of the historic county.
Events take place to mark the event throughout the county, though a particular town or village is usually designated as the focal point of the celebrations.
The idea of having an annual "Yorkshire Day" was originally conceived by the Yorkshire Ridings Society as a means of promoting solidarity in the face of the infamous 1974 local government reorganisations. These boundary changes saw the historic North, West and East Ridings of Yorkshire effectively abolished as political entities, with whole parts of the region were given over to other administrations.
Perhaps the most controversial of the boundary changes involved moving the Yorkshire part of Teesdale in to County Durham, though a light hearted "Take Back Teesdale" campaign has recently been launched by Eagle Intermedia on Twitter using the "#TakeBackTeesdale" hashtag as part of company's annual Yorkshire Day activities on social media.
This site designed, maintained and promoted by
Eagle Intermedia Publishing Ltd.