This site uses cookies for analytics and affiliate tracking purposes. Please click here for more information.
The White Rose of Yorkshire

Site author: Eagle Intermedia

Follow Eagle Intermedia on Twitter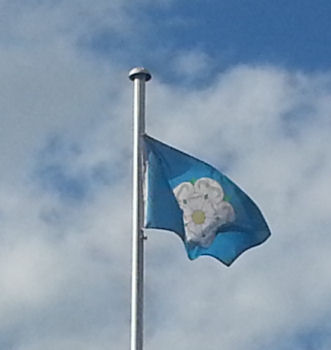 The emblem of Yorkshire is it's famous "White Rose", a symbol which features (usually against a blue background) on the historic county's flag (pictured above).
The White Rose was the flag of the House of York, and dates back to the Plantagenets and the Wars of the Roses which took place in England in the fifteeth century. The rival House of Lancaster had a red rose as its flag (which has now been similarly adopted by the county of Lancashire) and during the Wars of the Roses the two sides fought for the English crown.
The Wars of the Roses ended in 1485 when Henry Tudor defeated the Yorkist Richard the Third at the Battle of Bosworth Field, Henry becoming crowned Henry the Seventh as a result. To cement a new English unity Henry married Elizabeth, heir to the House of York, and the new king's flag combined both roses - the new "Tudor Rose" being the White Rose of York and the Red Rose of Lancaster together.
This site designed, maintained and promoted by
Eagle Intermedia Publishing Ltd.