This site uses cookies. Please click here for more information.
The 1940s
Presented in association with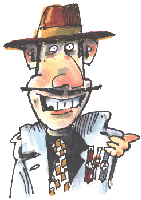 Dodgy Rodge - Spiv Extraordinaire !

1940s Home | 1940s Books | 1940s Links
Believe it or not, someone visiting the recent 1940s Weekend which was held in Haworth in the heart of West Yorkshire's Bronte Country walked in to a shop and asked the question "When were the the 1940s ?" Well, the answer is that they were between the 1930s and the 1950s - a period when most of the world was either involved in or recovering from the after-effects of the Second World War.
It wasn't all bad news though, as this was a period during which in the face of adversity people were still determined to make the most of what they had, enjoying what they could in spite of rationing and difficult times. The black economy thrived, and it was still possible to get hold of the odd luxury item from "spivs" who peddled their wares on the streets (no questions asked !). It was a time when Dame Vera Lynn sang of "Bluebirds over the White Cliffs of Dover" (we don't have bluebirds in England, but nobody told the American songwriters that), and dance halls across the country reverberated to the big band sounds of Glenn Miller and the like. This was when dance crazes such as Swing Jive and Lindy Hop crossed the Atlantic, brought over by the "Yanks" - American soldiers stationed in Britain and often described disparagingly as being "Over paid, over sexed, and over here !"
---
Please click here for information about the 1940s


Gift Ideas from Eagle Intermedia

This site designed, maintained and promoted by Eagle Intermedia Publishing Ltd.
© Copyright 2003 - 2013 All Rights Reserved.