This website uses cookies. Please click here for more information.
Bundedtanks.com to feature new products and with exclusive show offers at LAMMA 2014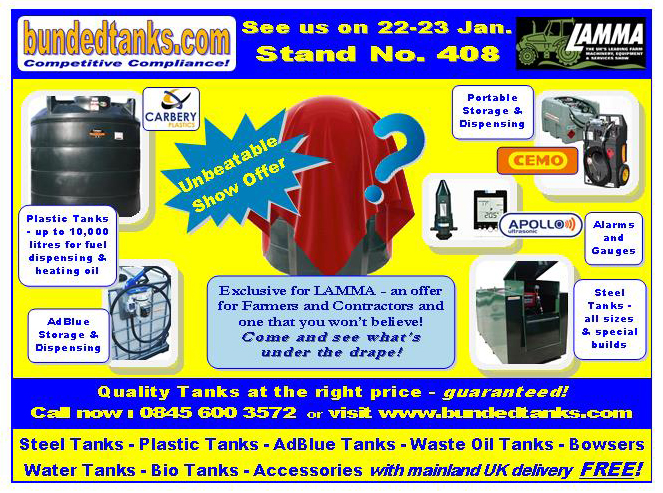 Bundedtanks.com will be at LAMMA again this year on Stand 408 at the new venue in Peterborough (UK) which should as ever always be well worth a visit.
Director David Mears said: "This is an important show for us and we are determined to make LAMMA 2014 our best yet!"
The company, working in partnership with suppliers CEMO, Carbery and Apollo will be launching new products and what they call "a deal that you wonít believe!" Pressed on this, all that has been said is that there will be show offers geared specifically towards farmers and contractors which should make it worthwhile visiting the stand. However there is one big deal that Bundedtanks.com is keeping under wraps.. literally (see above advert).
"This will be our star offer" said David Mears. "We know that visitors shop around and check prices before buying, often returning to try and squeeze a little bit more. Whilst we are ready to offer unbeatable prices, particularly at LAMMA, we are making this offer very different indeed. All I can say is that itís a novel approach and one that others would not be able to compete with!"
News item based on press release supplied by Bundedtanks.com - November 2013.
Please click here for more engineering and industrial news.
---
This site designed, maintained and promoted by
Eagle Intermedia Publishing Ltd.